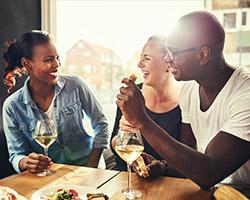 Dining & Food – Save Up To 50%
Save at your favorite restaurants!
No matter the occasion, you'll enjoy good food and save. From pizza to lobster - it's all affordable!
Save at thousands of restaurants including fine dining, fast food and the best local spots for your favorite cuisines from Asian to Italian. Whether dining local or when traveling out-of-town you'll find nearby participating restaurants to enjoy an affordable dining experience.
With over 70,000 restaurants to search from, you and everyone in your family can SAVE money every day!